Sustainable Technologies Laboratory
Development and evaluation of sustainable concepts for mobility sharing
Sustainability analysis and evaluation of technical products and services
Development of criteria and indicators for the evaluation of sustainability effect

Development of a blockchain-based token model for impact investors using the example of renewable energy
completed projects and events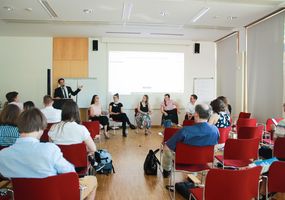 The symposium took place for the first time on June 27, 2019 at the Hochschule Bochum. Together, students and experts from science and industry discussed the opportunities of digitalization from a sustainability perspective through lectures, a panel discussion and a World Café.
(fulltext in german)
Leitung
Prof. Dr.-Ing.
Semih Severengiz
Fachbereich Elektrotechnik und Informatik
Hochschule Bochum
Am Hochschulcampus 1
44801 Bochum

Room:
D 3-03
Phone:
+49 234 32 10328
Consultation hours are exclusively by telephone for an indefinite period
Tuesdays 16-17 o'clock
Inquiry by mail desired
Due to the current measures taken by Covid-19, the lecture will take place exclusively online via blue jeans.
To participate in the lectures, or for further information about the Software Bluejeans please send an email to nora.schelte(at)hs-bochum.de.
Academic assistant

Room: D3-08
sebastian.finke@hs-bochum.de
Phone: +49 234 3210376
Ann Kathrin Stinder
Academic assistant

Room: D3-08
Ann.stinder@hs-bochum.de
Student assistant

Room: D3-08
hermann.strassberger@hs-bochum.de
Phone: +49 234 3210367
---
If you have any questions or need further information regarding our projects, research, or other topics,
please write us your request.
Fill it up, please! - Battery changing and charging station
The BObby E-Scooter Sharing Team is researching in the field of "Battery as a service" to provide battery management for the e-scooters. In this context the new battery charging cabinet "Swobbee" has been delivered and installed in front of the D3 building. The empty batteries of the scooter can be exchanged with the loaded batteries from the cabinet. There are six slots for the Kumpan-battery and two slots for greenpack-batteries available for this purpose.
e-Scooter Sharing in Bochum
Test event by the Bobby E-Scooter Team
The Bobby E-Scooter Team organized a test event on 29.10.2019 for all students and employees of the University of Bochum.