BObby Energy Hub: Solar charging station for sustainability in micro-mobility
Together with the start-up company SunCrafter from Berlin, the Laboratory for Sustainability in Technology has piloted a modular and grid-independent solar charging station on the campus of the Bochum University of Applied Sciences. The BObby Energy Hub is going into operation in autumn 2020.
Ten upcycled photovoltaic modules, each with an output of 250W, have been installed near Building F and are soon to be tested for the off-grid energy supply of electrified micro-mobility vehicles. Students are working interdisciplinarily on issues of sustainable mobility and energy supply using the Problem-Based Learning approach. The Energy Hub will initially be used for the electric scooters in the BObby Sharing project study. They will be charged with a maximum power of 1,2 kWh. An inductive – i.e. wireless – charging solution is planned for the future. Further charging solutions are planned for electrified vehicles such as pedelecs, cargo bikes, and electric scooters.
The aim of the project is to develop suitable solutions for the charging of light electric vehicles by users, e.g. to reduce additional service trips by sharing fleet operators. The system is connected to the Internet and can thus be monitored and controlled from any location. In addition, the data can be recorded and used for third-party funded research projects in the future. Additional charging functions via USB and the installation of a Wifi hotspot aim to make the solar charging station an attractive place for intercommunication, learning, and teaching.
Lithium-ion batteries with a capacity of 7.2 kWh store the energy and allow it to be used temporarily even in the absence of sunlight. Since the modules function autonomously, a wide range of mobile applications is possible. The possibility to install modules also at other locations opens up a wide range of conceivable applications for providing sustainable energy services and testing them in teaching and research projects in the future.
Interested students from all study courses, employees, and teachers are invited to participate and contact info(at)bobbyescooter.de for further information. External inquiries, e.g. regarding cooperation or the exchange of ideas, are also very welcome. We explicitly welcome feedback, questions, and suggestions for the further development of our BObby Energy Hub.
Prof. Dr.-Ing.
Semih Severengiz
Fachbereich Elektrotechnik und Informatik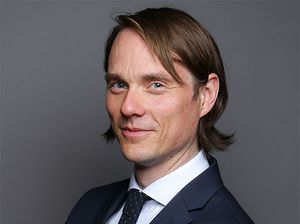 Fachbereich Elektrotechnik und Informatik