Welcome to the pages of the working group Applied Computer Sciences headed by Prof. Dr. Jörg Frochte. The working group is assigned to the Department of Electrical Engineering and Computer Science and is primarily active at the Velbert/Heiligenhaus campus. The focus of our activities in teaching and research is on the two topics
Machine Learning and Data Mining
Modeling and Simulation
In the field of machine learning and data mining, the working group is active in the Bergische Innovationsplattform für Künstliche Intelligenz (Bergische Innovation Platform for Artificial Intelligence) and networked with scientists from the Bergische University of Wuppertal within the interdisciplinary center "Machine Learning and Data Analytics". In addition, we maintain collaborations with colleagues from Weimar, Leipzig, Lemgo, Wellington (New Zealand) ...
Since 2019/20, the group is also particularly active in the continuing education project WeAI of the Bochum University of Applied Sciences, which offers computer scientists, engineers and natural scientists in the field of Machine Learning a practical form of continuing education at the highest professional level.
Positions as research/ student assistant
A research assistant is usually a person who already has a bachelor's degree and is enrolled in a master's program. A student assistant is a person enrolled in a Bachelor's program without a degree.
There are currently no open vacancies for research/ student asssistants in AKIS or the participating research groups.
The working group is so far active in the areas of:
Simulation Data Mining: application of data mining to data sets from simulations.
Educational data mining: application of data mining to learning and examination data
Machine learning in the area of autonomous robots in cooperation with colleague M. Schmidt
Machine learning and AI in the area of computer games and virtual environments
Furthermore, we are always open for new exciting applications in the field of machine learning.
Research & Development projects
Currently, we are working in the area of "machine learning" on the following two topics:
Learning of Ill-Posed Problems
Learning on Vertically Partitioned Data
For further information, please visit the english website and the publications section.
TIMALIE - TIered MAchine Learning ArchItEctures (2019 - 2022)
The research inthis project focuses on staged learning approaches. Using the approaches explored, we aim to make progress in the following problem areas:
Learning Autonomous Systems with Limited Resources.
Privacy & data security in cloud learning
Improved handling of incomplete data sets
The project is part of the Bergische Innovation Platform for Artificial Intelligence. This project is funded by the European Regional Development Fund (ERDF).
DIBS- Data Mining for Student Advising (2015-2016)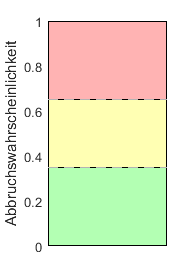 DIBS (Data MIning for Student Advising) is an american slang expression and could probably best be translated in German as "First!" as an exclamation. In this sense, the aim is to implement approaches that make it possible to identify risks of dropping out at an early stage. For this purpose, a first study was carried out with special consideration of data protection and data security in learning systems and procedures. The project was funded by the state of North Rhine-Westphalia.
SimCloud is a project supported by the BMBF (Federal Ministry of Education and Research) for the integration of a finite element simulation into a cloud architecture. The goal is to realize an integrated workflow for a cloud-based FEM application in a prototype. Essential aspects are security and user support. For the distribution to hetrogenic structures we made intensive use of machine learning techniques. The project was funded by the BMBF.
Textbook:
Maschinelles Lernen: Grundlagen und Algorithmen in Python (3. erweiterte und korrigierte Auflage)
published by the Hanser Fachbuchverlag, Nov. 2020; ISBN-13: 978-3446461444 ; 616 Pages
Maschinelles Lernen: Grundlagen und Algorithmen in Python (2. korrigierte Auflage)
published by the Hanser Fachbuchverlag, Jan. 2019; ISBN-13: 978-3446459960 ; 406 Pages
Maschinelles Lernen: Grundlagen und Algorithmen in Python (1. Auflage)
published by the Hanser Fachbuchverlag, Aug. 2018; ISBN-10: 3446446656; ISBN-13: 978-3446446656; 406 Pages
Finite-Elemente-Methode: Eine praxisbezogene Einführung mit GNU Octave/MATLAB (1. Auflage)
published by the Hanser Fachbuchverlag, Oct. 2016; ISBN-10: 3446452915; ISBN-13: 978-3446452916; 320 Pages
The papers below are all peer-reviewed publications:
Towards Explainability in Modern Educational Data Mining: A Survey
Basile Tousside, Yashwanth Dama and Jörg Frochte published in: Proceedings of the 14th International Joint Conference on Knowledge Discovery, Knowledge Engineering and Knowledge Management. Pages 212-220. DOI, PDF, BibTex
Group and Exclusive Sparse Regularization-based Continual Learning of CNNs
Basile Tousside, Janis Mohr and Jörg Frochte published in: Proceedings of the 35th Canadian Conference on Artificial Intelligence. DOI, PDF, BibTex
Investigation of Capsule Networks Regarding their Potential of Explainability and Image Rankings
Felizia Quetscher, Christof Kaufmann and Jörg Frochte published in: Proceedings of the 14th International Conference on Agents and Artificial Intelligence - Volume 3: ICAART 2022, ISBN 978-989-758-547-0, pages 343-351. (DOI link), (BibTeX), (PDF)
Regression learning on patches
joint work with Stephen Marsland accepted for publishing at the AusDM 2020

A Learning Approach for Optimizing Robot Behavior Selection Algorithm
Basile Tousside, Janis Mohr, Marco Schmidt and Jörg Frochte published in: Chan C.S. et al. (eds) Intelligent Robotics and Applications. ICIRA 2020. Lecture Notes in Computer Science, vol 12595. Springer, Cham. (Link); BibTex ; PrePrint version (pdf)

Learning Approach for Ill-Posed Optimisation Problems
joint work with Stephen Marsland pubished in : Le T. et al. (eds) Data Mining. AusDM 2019. Communications in Computer and Information Science, vol 1127, pp 16-27, Springer (Link); BibTex ; PrePrint version (pdf) -- used data for example 2 zip, example 4 zip. Details about example 3 are discussed in Goal-shot, a benchmark problem for ill-posed problems see below
Case Study On Model-based Application of Machine Learning Using Small CAD Databases for Cost Estimation
joint work with Stefan Börzel published in the Proceedings of the 12th International Conference on Knowledge Discovery and Information Retrieval (KDIR 2019), September 2019 in Vienna Austria; BibTex; PrePrint version (pdf), SciTePress
Concerning the Integration of Machine Learning Contents in Mechatronics Curricula
joint work with Markus Lemmen and Marco Schmidt published as chapter in the book "
Revolutionizing Education in the Age of AI and Machine Learning" (IGI Global) ; BibTex
Seamless Integration of Machine Learning Contents in Mechatronics Curricula

joint work with Markus Lemmen and Marco Schmidt to be published in the Proceedings of the IEEE
19th International Conference on Research and Education in Mechatronics (REM 2018), June 2018 in Delft, Netherlands (pdf in der IEEE Xplore); BibTex

Success Prediction System for Student Counseling Using Data Mining joint work with Irina Bernst accepted for publication in the Proceedings of the International Conference on Knowledge Discovery and Information Retrieval, November 2016
A Case Study on FMU as Co-Simulation Exchange Format for FEM Models
joint work with Christof Kaufmann accepted for publication in the Proceedings of the International Conference on Applied Computing 2016 (Mannheim, Co-Organized by the University of Mannheim), October 2016
Learning Load Balancing for Simulation in Heterogeneous Systems
joint work with Irina Bernst and Christof Kaufmann published in the Proceedings of the 12th International Conference on Applied Computing 2015 (Greater Dublin, Ireland), ISBN - 978-989-8533-45-6 pages 121 - 128, BibTex, PrePrint version (pdf)
Influence of Plant Model Variants for the Automatic Optimisation of Control Parameters
joint work with Patrick Bouillon and Markus Lemmen published in in the Proceedings of the 16th International Conference on Research and Education in Mechatronics (Bochum, Germany), ISBN - 978-3-945728-01-7; pages 80-87 BibTex, PrePrint version (pdf)
Simulation- and Web-Based E-Learning in Engineering - Open Source Architecture and Didactic Issues -
joint work with Patrick Bouillon published in in the Proceedings of the 16th International Conference on Research and Education in Mechatronics (Bochum, Germany), ISBN - 978-3-945728-01-7; pages 127-134 BibTex, PrePrint version (pdf)
An Approach For Secure Cloud Computing for FEM Simulation
joint work with Christof Kaufmann and Patrick Bouillon;
published in the Proceedings of the IADIS International Conference on Applied Computing 2014; ISBN - 978-989-8533-25-8; pages 234-239, PrePrint version (pdf)

An Approach for Load Balancing for Simulation in Heterogeneous Distributed Systems using Simulation Data Mining
joint work with Irina Bernst, Patrick Bouillon and Christof Kaufmann;
published in the Proceedings of the IADIS International Conference on Applied Computing 2014; ISBN - 978-989-8533-25-8; pages 254-259 PrePrint version ( pdf)
Learning Overlap Optimization for Domain Decomposition Methods
joint work with Steven Burrows, Benno Stein, Michael Völske and Ana Belén Martínez Torres;
accepted for publishing at the 17th Pacific-Asia Conference on Knowledge Discovery and Data Mining (PAKDD 2013)

Simulation Data Mining for Supporting Bridge Design.
joint work with Steven Burrows, Benno Stein, David Wiesner and Katja Müller.
published in Proc. Australasian Data Mining Conference (AusDM 11), Ballarat, Australia; pages 71-79, December 2011. ACM. ISBN 978-1-921770-02-9
BibTex, PrePrint version (pdf), AusDM Online Version
Modelica Simulator Compatibility - Today and in Future
Proceedings 8th International Modelica Conference, Dresden, March 2011
BibTex, PrePrint version ( pdf), Modelica Proceedings
A numerical Method for a Nonlinear Spatial Population Model with a Continuous Delay
International Conference of Numerical Analysis and Applied Mathematics 2010
AIP Conference Proceedings 1281; ISBN 978-0-7354-0834-0
BibTex, PrePrint version (pdf), AIP Online Version
An Adaptive Higher Order Method in Time for Partial Integro-Differential Equations
International Conference on Numerical Analysis and Applied Mathematics 2008
AIP Conference Proceedings 1048; ISBN 978-0-7354-0576-9
BibTex, PrePrint version (pdf), AIP Online Version
A third order method for Convection-Diffusion Equations with a Delay term
Numerical mathematics and advanced applications.
Proceedings of ENUMATH 2007
Springer (2008). ISBN-10: 3540697764
BibTex, PrePrint version (pdf), Springer Online Version
An adaptive operator splitting of higher order for the Navier-Stokes equations
joint work with Wilhelm Heinrichs
Numerical mathematics and advanced applications.
Proceedings of ENUMATH 2005
Springer. pp. 871-879 (2006). ISBN 3-540-34287-7
BibTex, PrePrint Version ( pdf), Springer Online Version